<! -- Edit page in dental-implants.php -->
Restore Your Natural-Looking Smile With Dental Implants!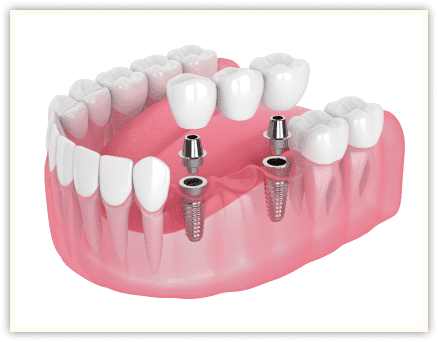 Our skilled dentists may recommend dental implants to replace your missing teeth and restore your smile. Implants give you back your oral health and function, helping you chew and speak properly and improving your quality of life as well as your smile. We invite you to call Goose Creek Family Dentistry to learn more about dental implants in Goose Creek, South Carolina, and schedule your consultation with Dr. Gilreath and associates.
Schedule Your Appointment
843-764-3081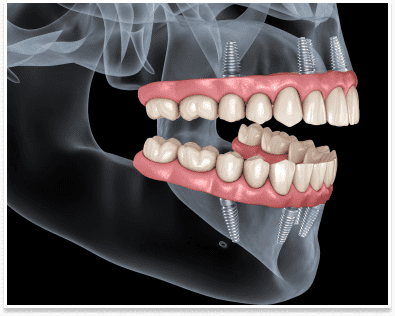 What Are Dental Implants?
Dental implants are an option to replace missing teeth. In an implant procedure, a small titanium post is surgically implanted into the jawbone and allowed to set for three to six months. The bone grows around it, forming a tight connection, which additionally slows or stops the bone loss that occurs when the root of a natural tooth is missing. Once the implant is firmly set in the mouth, the replacement tooth is attached onto the top of the post.
The structure and function of a dental implant resembles that of a natural tooth, making it an ideal tooth replacement option!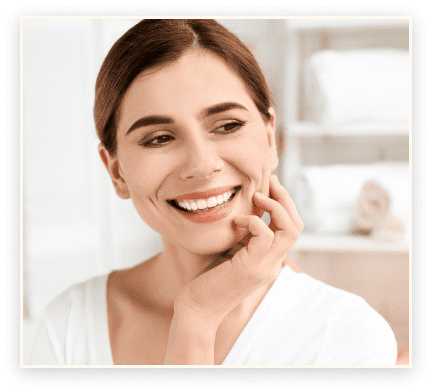 What Are the Benefits of Dental Implants?
Every tooth has two parts: the crown and the root. The crown is the visible part of the tooth while the root remains unseen anchoring the tooth in your jawbone. The root does more than provide support for the crown. If the root is missing, this may lead to shrinkage of the jawbone. Dental implants can prevent this shrinkage from happening, maintaining your natural facial volume.
Because dental implants contain the same basic parts as natural teeth, they can provide the stability and function you need to eat and speak normally.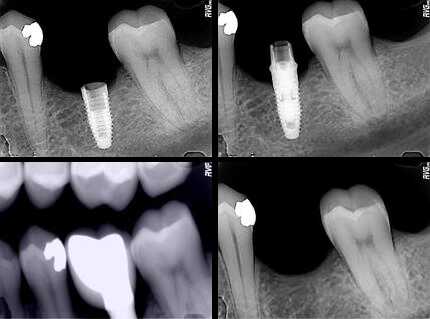 What Is the Dental Implant Process?
Your first step toward getting your dental implant restoration is meeting with our dentists to discussion your smile needs and whether you are a good candidate for a dental implant.
If you and our dentists decide that a dental implant is a good option for restoring your tooth, we will then take scans of your mouth and jaw to create high-quality references that we will use for planning your individualized treatment and optimizing successful results. We will also discuss sedation options for your implant placement.
The post of your dental implant will be surgically set into your jawbone at the site of the missing or extracted tooth. The implant post is made of a biocompatible material that will fuse with your bone to create a sturdy foundation for your new tooth. Once the implant post has fully integrated with your bone, we will place a customized restoration on top of it. The restoration may be a crown, bridge or denture. Our dentists will help you decide which is the best restoration for your needs.
The implant process typically takes three to six months to complete, depending on how long it takes for the implant post to fuse with your jawbone.
Who Is a Candidate for Dental Implants?
If you are missing a single tooth and have good oral health and healthy gum tissue, you may be a good candidate for a dental implant. Dental implants may also be a good alternative for patients who are having problems or discomfort with their traditional dentures. If you need to replace teeth but do not want to sacrifice your normal oral function, ask our team about restoring your smile with dental implants!
Schedule Your Implant
Consultation Today!
Call 843-764-3081.
Your implant screening will include a thorough examination and discussion of your candidacy.
Contact our office today to set an appointment with our dentists and see if dental implants might be a good solution to replace your missing or damaged teeth.
Schedule Your Appointment
WHAT TO EXPECT ON YOUR FIRST VISIT
For over 40 years, Dr. Gilreath and our team have provided an inviting, positive atmosphere for our patients. When you visit our office in Goose Creek for the first time, you will be enveloped in a quiet, relaxed, and spa-like environment that will help you feel at ease. We cater to your comfort with warm blankets and a variety of beverages, including water and coffee. Contact us today to schedule your first visit with our team!